Founders of Network Marketing Pro and Author of "GoPro: 7 Steps to Becoming a Network Marketing Professional"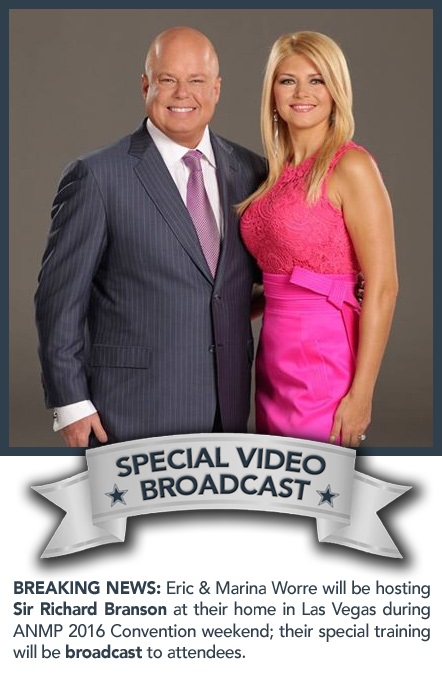 ERIC WORRE

Eric Worre has been a leader in the Network Marketing Profession for over 25 years. Although he's now retired from being a distributor and focused exclusively on Network Marketing Pro®, his career has given him a broad range of experience. He's been a top field producer, building sales organizations totaling over 500,000 distributors in over 60 countries; the President of a $200 million dollar Network Marketing company; a co-founder and president of his own company, TPN - The People's Network; and a high level marketing consultant to the Network Marketing Profession.

Eric has become an accomplished trainer and has conducted hundreds of live events around the world, teaching people how to become Network Marketing Professionals. He has shared the stage with virtually every major speaker in the Personal Development and Network Marketing space.

In 2009, Eric founded NetworkMarketingPro.com, the most–watched training site in the Network Marketing Profession, with an audience in 137 countries around the world and a community of over 300,000 leaders. Since its inception, Network Marketing Pro® has provided over a thousand free training videos and hosted the largest and most powerful training events in the Network Marketing Profession. The annual Go Pro Recruiting Mastery event has become the largest in Network Marketing history.

Eric is the author of the International best-selling book Go Pro: 7 Steps to Becoming a Network Marketing Professional, which has sold over 300,000 copies in its first 10 months and has become a "must read" for anyone who is serious about building their network marketing business.

MARINA WORRE

Co-founder and President of NetworkMarketingPro.com, Marina Worre has always been passionate about helping people achieve well-being in their lives and live up to their true potential. A businesswoman all her life, she now devotes her time to running the Network Marketing Pro company.

Marina is also the Founder of The Most Powerful Women in Network Marketing event. Her desire is for every woman in Network Marketing to feel powerful and committed to using their business to empower other women and to enjoy a full life with financial independence.

Marina and Eric are also the Executive Producers of the popular documentary-style movie, Rise of the Entrepreneur: The Search for a Better Way, which has been called the "Most Powerful Recruiting Tool in Network Marketing History." This documentary gathers today's best experts and thought leaders to forever change how you view work, wealth and entrepreneurship – especially as it relates to the Network Marketing Professional.

This power couple also hosts, organizes and leads numerous training events and lead personal coaching workshops throughout the world.

Both Eric and Marina are big philanthropists and supporters of several charity foundations, including the Starkey Hearing Foundation. And as they travel the globe to help people and their families throughout the Network Marketing community, the Worres are also raising 5 amazing kids!

Together, both Eric and Marina are engaged in an effort to raise all ships and allow this profession to truly take its proper place in this world as "a better way."

UPDATE: Eric & Marina Worre will be hosting Sir Richard Branson at their home in Las Vegas during ANMP 2016 Convention weekend; their special training will be broadcast to attendees.