7-Figure Earner, Top Enroller, Network Marketing Coach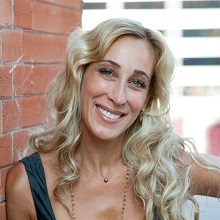 Hayley Hobson is an author, speaker, Kick-A$$ Business Guru, 7-Figure Earner and MOM-trepreneur, and passionate about empowering others to live the life of their dreams. Based in Boulder, CO. Hayley creates lifestyle transformations by coaching her clients to become the best WHOLE version of themselves possible.

A Double Presidential Diamond, she can be increasingly found speaking at many global Business events, such as Go Pro Recruiting Mastery and The Most Powerful Women in Network Marketing. Hayley's insights and articles can also be found on her personal blog on Mindbodygreen, Positively Positive and Elephant Journal. She has also been featured in Pilates Style magazine, Natural Health magazine, Bridal magazine, Triathlete Magazine, Four Year Career by Richard Bliss Brooke and Networking Times. She is also creator on the online business mentorship training programs called Your Whole Biz, Social Downline and Whole MOM-trepreneur.

She has fun living, working and playing in the mountains with her husband, former world-ranked triathlete Wes Hobson, and their two beautiful daughters, Makenna and Madeline.