"Family First" Full-Time PowerHouse Couple AND Network Marketing Mentors & Top Producers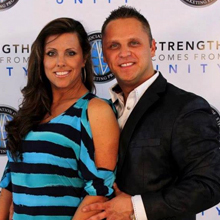 Travis and Summer Flaherty reside in Sunny Arizona, have been married for 17 years, and have 5 beautiful children together, with another on the way this June. The Flaherty's own and operate a successful marketing, consulting and speaking business. The Flaherty's are best known for their 'family first' culture, for being a powerhouse couple inside the direct sales industry, and for being advocates of small business, and self-reliance, through entrepreneurship.

The Flaherty's have owned and operated many successful traditional businesses over the past two decades, as well as building to the #1 position in three different network marketing companies. The Flaherty's now serve the direct sales community via speaking, coaching, mentoring and consulting.

Most recently, the Flaherty's have founded Entrepreneur-Life University, aka: 'ElifeU'. ElifeU is a fully automated, online & on-demand (studio-production) education program for all entrepreneurs.

Accomplishments:
2009: Featured in the popular industry publication, 'Your Business at Home'.
2011: Featured in 'Success From Home' Magz.
2009-2014: The Flaherty's were the Top Earners for their company, globally.
2014: Nominated by the Association of Multi-Level Marketing as 'Distributors of the Year'.
2015: Travis and Summer's story was featured in Networking Times
2015: Featured on Network Marketing Pro's 'Better Way Series' by Eric Worre
2016: Story featured in the #1 bestselling book, 'The Four Year Career' written by Richard Brooke.
Notable Links: